This is the Battlezone. You can choose a room or tournament to play. Also you can create your own room or tournament.

---
Here you can see a list of rooms created by other users. Rooms have user count limits and level limits.

---
You can sort rooms using the varying criteria 
---
To get the latest information about a room list, use the "Refresh" button. 
---
When you have chosen a suitable room for you, all you need to do is to click "Join".

---
If you are tired of searching for a suitable room or you don't want to spend time doing so , just click "Quick Play" and the game will search for the most suitable room. You join automaticaly. 
---
If you want to create your own room, click "Create". 

---
In the room creation menu you can choose the  map, set the maximum number of players, set level limitations, lock the game with a  password as well as other options.
---
If you've changed your mind, just click "Cancel". 
---
In addition to rooms there are also tournaments, you need to be level five and be able to pay the stake to enter a tournament, the winners split the winning pot and the losers lose their stake, you automatically lose if you leave the room.
---
You can also create your own tournament. It is almost like a room creation, but with some extra settings. You need to  click "Create" to proceed. 

---
You can set the  weapons that will be allowed in your tournament. You can choose between time limit or score/frag limit. Also you should choose a tournament stake.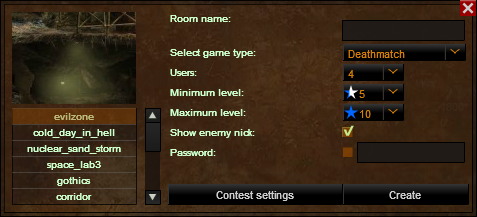 Ad blocker interference detected!
Wikia is a free-to-use site that makes money from advertising. We have a modified experience for viewers using ad blockers

Wikia is not accessible if you've made further modifications. Remove the custom ad blocker rule(s) and the page will load as expected.