This is a high rate fire weapon featured in Call of Duty: Black Ops 2 and going to have this gun on my own.
If you like, I support them to add this in the game.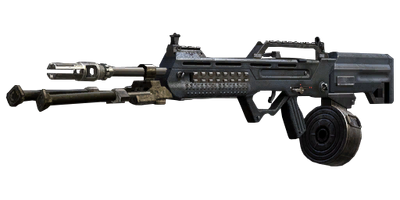 Weapon: QBB LSW
Type: Light Machine Gun (also it appears with a heavy machine gun)
Cost: 36000 Coins, 64 Cash
Requirements: Accuracy 0, Strength 5, Explosions 0
Damage: 260-280
Ammo: 75
Reload: 4.5s
Shot interval: 0.05s (high rate fire than 0.15s)
Ad blocker interference detected!
Wikia is a free-to-use site that makes money from advertising. We have a modified experience for viewers using ad blockers

Wikia is not accessible if you've made further modifications. Remove the custom ad blocker rule(s) and the page will load as expected.